06 Jul

Jungle Gym – The joy of leisure skills

Learning how to play on a jungle gym comes naturally to most children. However, for children diagnosed with autism or developmental delays it often takes a bit longer. Why you may ask, is playing on a jungle gym an important skill? It's important because it allows children to blend in with their peers when they are out at a park, restaurant or even integrating into a mainstream school setting.

The skills most children take for granted as they clamber about on a jungle gym fall into a category called Leisure Skills. Leisure skills have an important part to play in neurological development, gross motor skill development, balance and motor planning. 

At Newberry Park, we break large skills such as climbing up the ladder on the jungle gym into small steps. We teach those steps using a variety of different ABA techniques. Once the student has mastered those steps, we start reinforcing their use with the jungle gym to help transfer the newly mastered skills into the student's natural environment.

This story was inspired by the very personal experience of one of the families that attends our centre. Learning to play on the jungle gym has had a wonderfully positive impact on their little boy and their family life. Their little guy joined our centre a year ago. When he started with us he had several self-stimulatory behaviours such as pacing back and forth, and flicking and flapping his hands. At school, these usually appeared during downtimes, less structured periods such as snack and lunch periods.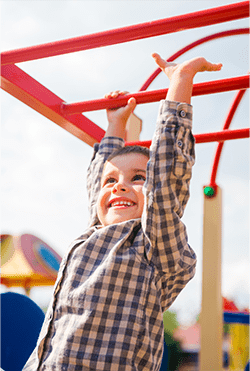 Teaching leisure skills should be part of every curriculum for children with Autism. Learning leisure skills assists with physical development and in reducing self-stimulatory behaviors. These behaviours commonly lead to children standing out among their peers and being ostracized during play. It is an area often neglected in basic assessments and overlooked by therapists when setting their therapeutic goals.
His family reported that they prefered not to take him out as people often stared at him and they didn't want him to stand out from others. This was extremely hard to hear as it prevents him from being included in his community and society as a whole. It also has an emotional toll on his family life as it prevented them from doing any activities without a great deal of special planning.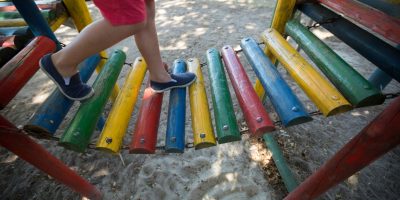 After hearing their story we started teaching him to do basic motor actions such as moving his arms up and down and bending his leg. We were then able to help him to apply these movements to the jungle gym outside. He initially did not find any reinforcement in playing on the jungle gym, so we paired a lot of praise and rewards with his achievements. Within a month he was playing on the jungle gym spontaneously at snack and break times and his self-stimulatory behaviours decreased. He is now able to join his family when they go out to restaurants and family events, and he's not automatically ostracized by the other children there.
The outcome is a happy playful child who now enjoys hours of active play on the jungle gym.
Teaching leisure skills helps children reduce the self-stimulatory behaviours which make them appear "different". These skills should be part of every curriculum because it helps to reduce a child's self-stimulatory behaviours which limit simple social interactions with their peers. The change these skills brought has made social integration simpler for the whole family and has brought them the simple joys of more relaxed family outings.